How to make bath bomb at home
While a glass of wine, a good book or plenty of bubbles are the perfect complement to a hot tub, a more colorful and exciting option might be the bath bomb. it is usually shaped into a small sphere that fits in the palm of your hand (although you can find interesting shapes too!) ), the bathtub bomb bubbles and breaks down upon contact with water, releasing a delightful scent that fills your tub with color.
bath bombs can add a little fun to a soothing self-care ritual, but they usually cost $5-$15 each and add up quickly. Fortunately, if you choose to make your own bath bomb at home, you won't have to spend your hard-earned money on this delightful indulgence. The process is very simple (only 20 minutes, plus a day or two of drying time). It can be a relaxing and creative activity because you can customize them to the scents and colors you like. With this basic recipe, it should be easy to figure out how to make a bath bomb and you'll soon be bathing in a colorful, fragrant tub.
Are you ready to move on to the next stage? Read on for an easy, customizable, and affordable DIY bath bomb recipe.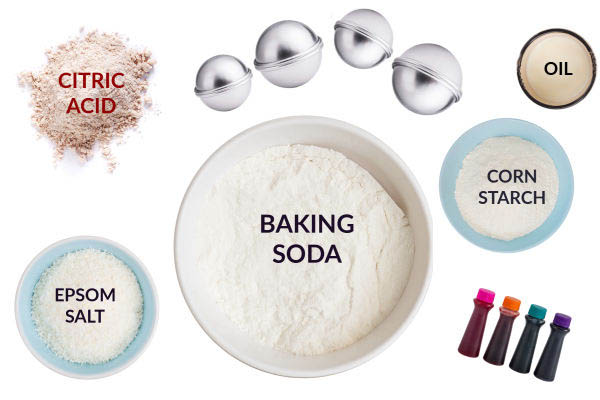 You will need
3 cups of baking soda
1 1/2 cups citric acid
2 tablespoons cream of tartar or white kaolin paste
2 tablespoons sodium dodecyl sulfate (SLSA)
1/2 teaspoon cosmetic mica colorant, optional
2 tablespoons oil of choice (we recommend sweet almond oil)
1 tablespoon polysorbate 80 (if using color additives)
Essential oil or essential oil, optional (see note)
Witch hazel, in a fine mist spray bottle
2 1/2″ round metal bath box mold
Instructions.
In a large mixing bowl, thoroughly mix baking soda, cream of tartar (or kaolin) and SLSA. if necessary, stir in mica colorant until completely mixed.
In a small container, mix the oil, fragrance/essential oil and polysorbate 80 (if using).
Continue stirring, slowly mixing the liquid into the dry ingredients until completely blended.
Add citric acid to the mixture and stir until completely mixed.
Test the mixture for moldability – it should feel like slightly wet sand that holds together when held in your hand.
If the mixture is not wet enough to mold, spray it two to three times with a bottle of witch hazel spray and mix thoroughly. Repeat this step as needed until the proper consistency is achieved.
Fill the two halves of the bath box mold with the bath box mixture, making sure the sides of the mold are slightly overflowing. Press the two mold halves firmly together.
Carefully release the bath bomb from the mold (if necessary, tap the mold gently with a wooden spoon) and allow it to dry completely for 24-48 hours, depending on the temperature and humidity in your area.