Malaysia Bath Bombs Promotional Product Order
Inquiry from a Malaysian customer, the customer was a sales plan that needed to conduct online promotional activities at that time, and the demand was a low-priced explosive salt set product with a quantity of 50,000 sets. There is no requirement for the gram weight, and the price only needs to be controlled below 1.8USD , and needs to be available for shipment within 45 days.
Since the customer's delivery time is very urgent, but they want to confirm the physical color of the pre-production board first, if it takes time to send the pre-production sample to Malaysia, it will definitely consume some time in the middle, and I am worried that the delivery time will be delayed.
Finally, we chose to use video conference with the customer to communicate the color and packaging method of the pre-production board, avoiding the delay in sending samples, so that the order was carried out on schedule. During the production process, we also hold video conferences with customers at any time. After the full inspection by the quality supervisor, a sampling inspection report will be made, and the results of the sampling inspection will be reported to the customer, and finally the order will be shipped smoothly.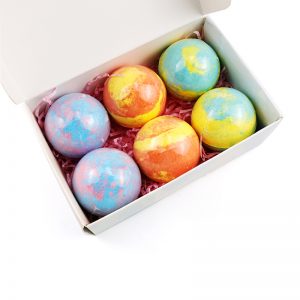 bath bomb company advantage
1. Certified cosmetic production qualification
2. Various industry certifications
3. Professional R&D center, professional talents, professional technology
4. Only good raw materials can lead products to the market
5. Professional OEM one-stop service