Professional bath bomb supplier BodyNurse  offer one-stop service and a variety of shapes and sizes handmade soap/bath bombs with high quality and competitive price. We have a professional technology team, any customized design will be welcome.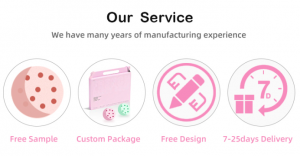 Our Products and Services
All of our products are produced comply with USA & EU cosmetic regulation, high-quality control, and reliable delivery.
Consultancy
We help our customers by providing them with consultancy services. We make suggestions on how to save on annual budgets and selling way.
Design
We offer our own design for customer's choice, our customers can put their logo on our design or customized their unique design.
Other Commercial Products
We provide all the other supplies that you may need or demand in requested designs and colors
through one single source and invoice with savings on cost in line with our corporate integrity.
Packaging and Delivery
We deliver goods in proper external and internal cases in standardized quantities to avoid any damage during delivery and storage. Also, the customized request will be available.